TIRUPATI – TIRUMALA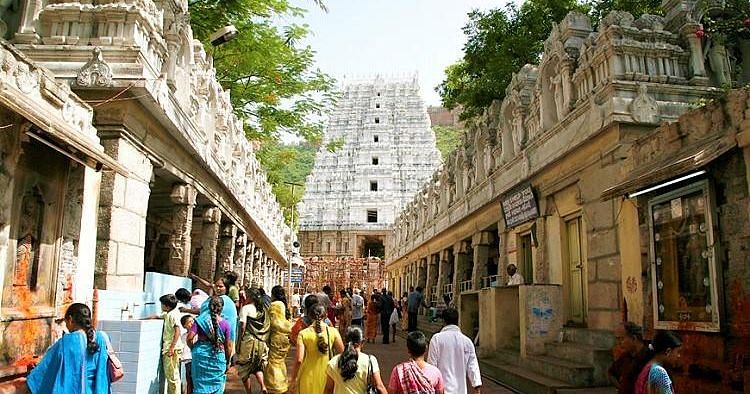 ABOUT TIRUPATI - TIRUMALA:
Sacred abode of Lord Venkateswara or Balaji is one of the oldest and richest Hindu pilgrim centres of the country.

Tirupati, literally the 'Lord Lakshmi' is the town and transport hub set in the foot hills of Tirumala.

Sacred Tirumala hill in the Eastern Ghats has seven peaks, representing the seven headed serpent Adisesha, on whose coil Lord Vishnu sleeps.
MODE OF COMMUNICATION:
Airport: Tirupati Airport, Renigunta (TIR), 15 kms away from Tirupati city centre.
Rail: Tirupati Railway Station, Tirupati, 1 km away from Tirupati city centre.
Road: Well connected by road.
SIGHTSEEING AT A GLANCE:
| | |
| --- | --- |
| HOLY CENTRE | Lord Venkateswara Temple Swami Pushkarni Akasa Ganga Sri Govindrajaswamy Temple Goddess Alamelumanga (Padmavati) Temple Sri Kalahasti |
| WILD LIFE | Sri Venkateswara Wildlife Sanctuary |
| LAKE | Sila Thoranam |
| FAIRS AND FESTIVALS | Brahmotsavam |
For more information visit https://tirupatibalaji.ap.gov.in/
ATTRACTIONS OF TIRUPATI - TIRUMALA
Lord Venkateswara Temple:
Majestic shrine of Lord Venkateswara nestling amidst the Tirumala Hill.

About 700 metres above the town is one of the most popular Hindu temples in the world.

Visited by over 25,000 pilgrims a day and the number reach up to 1,00,000 on festival days.

Temple staff alone accounts to a number of about 18,000.

Popularity of the temple can be judged by its annual income, which is over two billion rupees.

Sacred temple finds mention in the ancient religious texts and was perhaps built during the 9th century.

Masterpiece of Dravidian architecture has a huge outer courtyard or sampangi pradakshinam, which is dotted by several interesting mandapams.

Glittering gold Vimanam, known as Ananda Vimanam rises protectively over the sanctum sanctorum.

Enshrines the 'swayambhu' or naturally formed two metres high jet-black stone idol of Lord Venkateshwara.

'Brahmotsavam' (September/ October) is the main temple festival celebrated in a grand way for nine days and attracts a large number of devotees.
Swami Pushkarni:
Many pilgrims take holy dip in the sacred tank before having a darshan of the Lord.
Akasa Ganga:
Perennial stream flowing 3 kms north of the main shrine is regarded as one of the sacred Thirthams.

Stream is said to be flowing from the feet of Lord Vishnu.

Its sacred water is used for the daily rituals in the temple.
Sila Thoranam:
Arch lake natural rock formation just 1 km north of Venkateswara temple.

Only one of its kind in Asia and a must visit site.
Sri Govindrajaswamy Temple:
Largest shrine of Tirupati town and is dedicated to Krishna and Vishnu.

Temple was consecrated I 1130, by saint Ramanujacharya.

Present structure was built by the Nayaks.
Goddess Alamelumanga (Padmavati) Temple:
Shrine dedicated to Padmavati, the consort of Lord Venkateswara lies at Tiruchanur, 4 kms from Tirupati.
ATTRACTIONS AROUND TIRUPATI - TIRUMALA
Sri Venkateswara Wildlife Sanctuary:
10 kms away from Tirupati.

Spread over an area of 505.94 sq. kms in Chittoor.

Cuddapah district with rich variety of plant and animal species.

Sanctuary is inhabited by very rare slender loris, endangered, golden gecko, Indian giant squirrel, tree shrew and flying lizard.

It also home to panther, sloth bear, sambar, wild boar, hyena, civet cat etc.
Sri Kalahasti:
Important Hindu pilgrim centre is located between two steep hills on the banks of Swarnamukhi River.

Sri Kalahasthisvara temple here is dedicated to Lord Shiva in the form of Vayulinga.

According to a legend, spider (Sri) spun a web over the linga, a snake (Kala) placed a gem atop it and an elephant (Hasti) brought the water to wash the linga.

All three were ardent devotees of Shiva and the shrine is named after them.

Flame of the temple deepam (lamp) flickers regularly as air (Vayu) is said to be constantly emanating from the Shivalinga.