As the capital and metro city of India, Delhi is one of the most popular tourist destinations in India, due to its rich history and offers you a complete dose of, heritage, culture, and tradition on any given day. No matter what is the "best" time of year you visit, there always something to see and do in Delhi. Delhi offers a wide variety of sights and activities that will appeal to any traveller.
Historical places have a soul all their own! There are monuments / structures / places which take you back in time with history and stories to hear. The history of Delhi is very rich and also do take advantage of the local cab hire in Delhi with Aegiscabs and you will have an enjoyable journey.
One intends to explore not just the city but outstation trip as well. Taxis are affordable and can be easily booked for local / outstation trips.
After a local visit, you will have also facilities to travel outstation easily with Aegiscabs and affordable way. Means you can also book a taxi for cities like Delhi to Kurukshetra, Chandigarh, Amritsar, Shimla, Jaipur, Mussoorie etc.
Places to Visit in Delhi
Red Fort
Qutub Minar
Jama Masjid
India Gate
Rashtrapati Bhavan
Lotus Temple
Akshardham Temple
Worlds of Wonder (water park)
National Rail Museum
Delhi Zoo
PM Museum
Red Fort, named for its massive red-colour sandstone walls, was constructed in 1639 by the Mughals. Octagonal-shaped and spread over 254 acres in Old Delhi, the fort's design is a fusion of Mughal, Persian, Hindu, and Timurid traditions. It was a strong influence on later structures built in and around Delhi and features a museum holding Mughal-era artefacts, including daggers, curtains, miniature paintings and carpets. Important things of this architectural creativity is the peacock throne, step well, imperial bath, Moti Masjid and Hira Mahal.
Timings: 9:30 am to 4:30 pm (closed on Mondays)
Nearest Metro Station: Chandni Chowk, New Delhi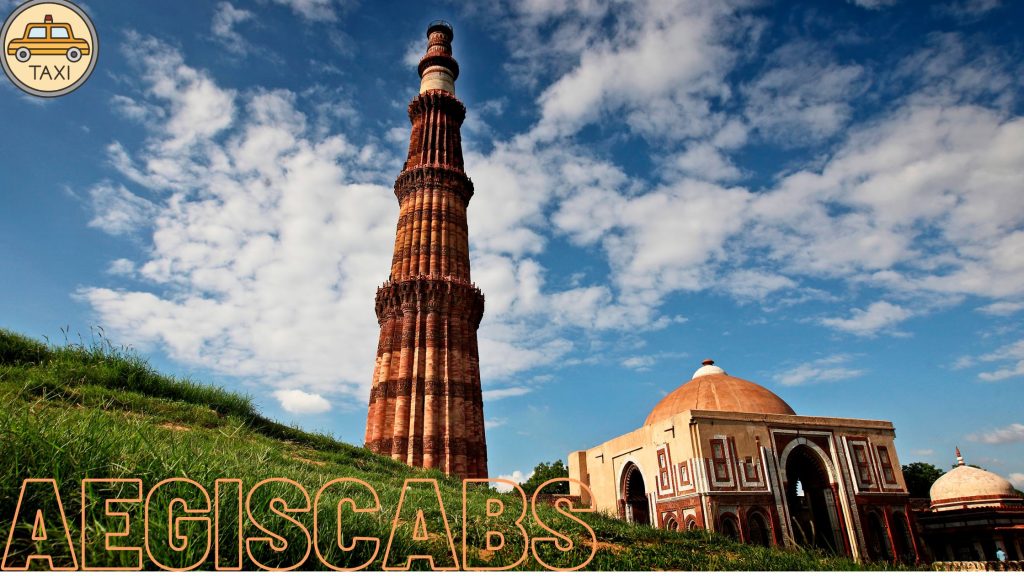 Qutub Minar is 73-meter tall, tapering minaret, named after Qutb-ud-din Aibak. It has five storeys, the first three of which are made of red sandstone and the fourth and fifth of marble and sandstone. On each storey are decorative Quranic texts. The tower has a spiral staircase with 379 steps. At its foot is the Quwwat-ul-Islam Masjid, the first mosque in India.
Timings: 7:00 am to 5:00 pm
Entry Fee: INR 30 (Indians); INR 500 (foreign national)
Nearest Metro Station: Qutub Minar metro station, New Delhi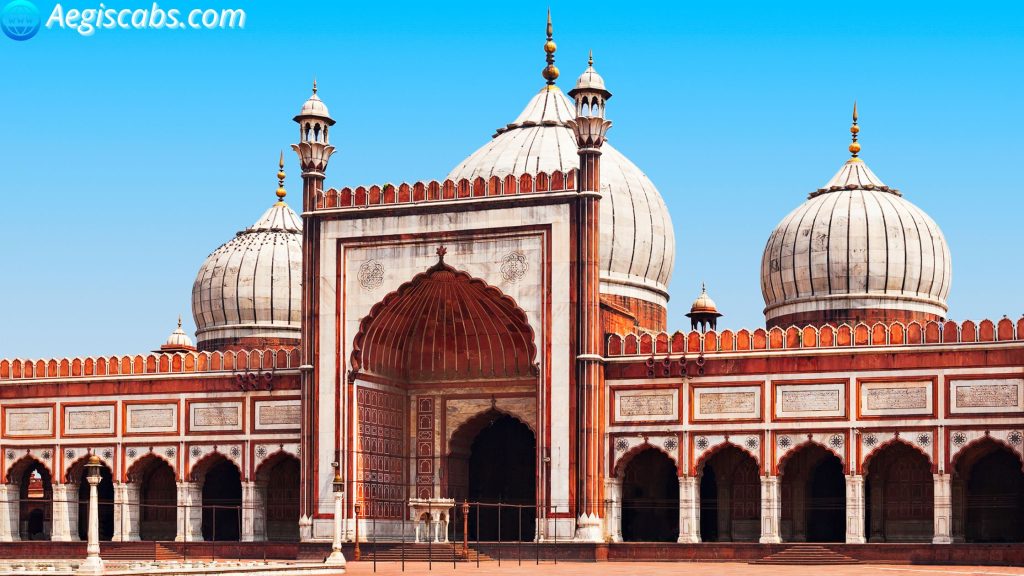 Jama Masjid is the largest and most well-known mosque in India. It was constructed between 1650 and 1656 under the Mughal emperor Shah Jahan. It took more than 5000 labourers to complete mosque. The mosque is built in red sandstone and marble. It has three gates, four towers, two 40-metre high minarets and a courtyard that can hold 25,000 devotees. Note that entry is not allowed in the mosque during prayers.
Timings: 7:00 am to 12:00 pm, 1:30 pm to 6:30 pm
nearest Metro Station: Jama Masjid, New Delhi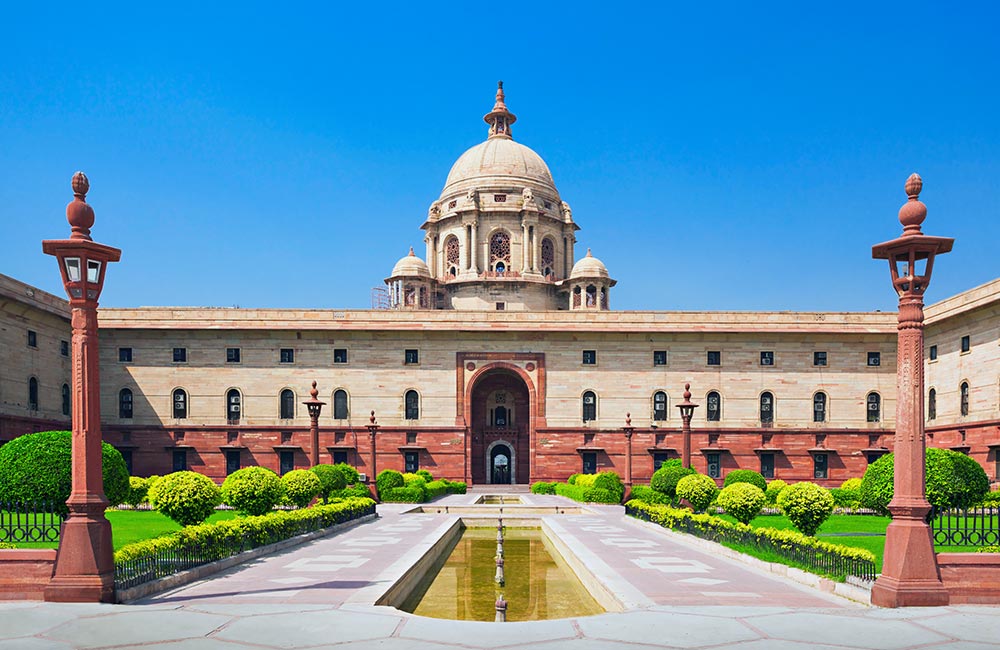 The Rashtrapati Bhavan, the official residence of the President of India, is a must-see while you're in New Delhi. Located at the western end of Rajpath, this sprawling 330-acre estate houses the Main Building (Circuit 1), the Rashtrapati Bhavan Museum Complex (Circuit 2), and the world-famous Mughal Gardens (Circuit 3). This huge presidential palace, a creation of Sir Edwin Lutyens and Herbert Baker, is the largest home of any head of state in the world and is truly an architectural marvel.
Timings: 9:00 am to 4:00 pm
Circuit 1: Open on Thursday-Sunday
Circuit 2: Open on all days except Monday
Circuit 3: Open on Thursday-Sunday (November-March)
Nearest Metro Station: Central Secretariat, New Delhi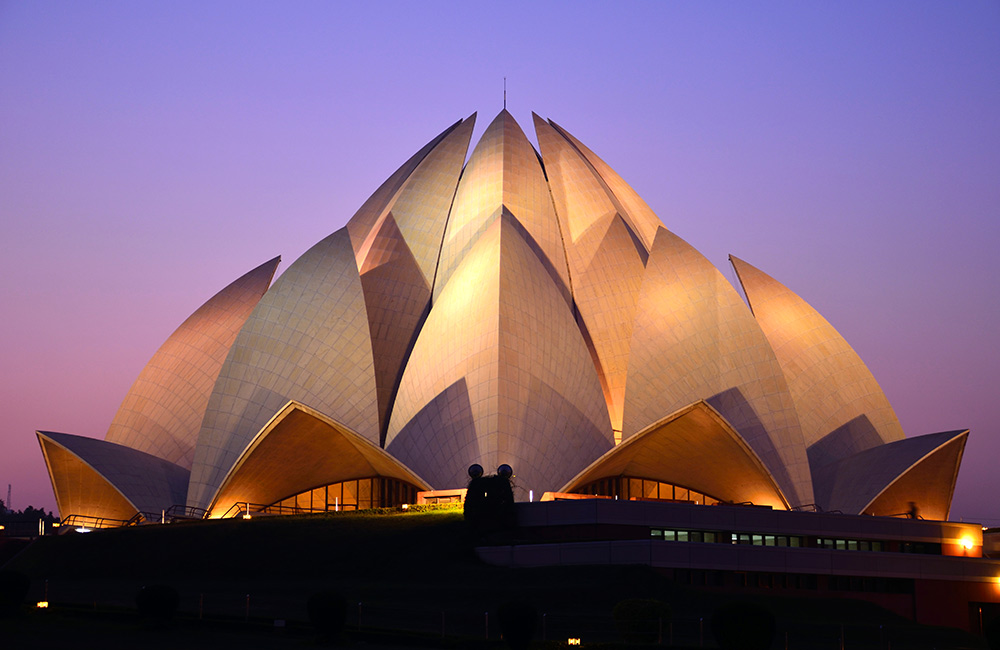 Lotus temple is Known for its unique architectural design, It is a Bahá'í House of Worship, dedicated to harmony of humanity. And it is inspired by the flower lotus; it has 27 free-standing marble-clad petals with a height of over 34 metres and is covered by sprawling gardens and pond. it can accommodate around 2500 people all together.
Timings: 9:00 am to 5:00 pm
Nearest Metro Station: Kalkaji Mandir, New Delhi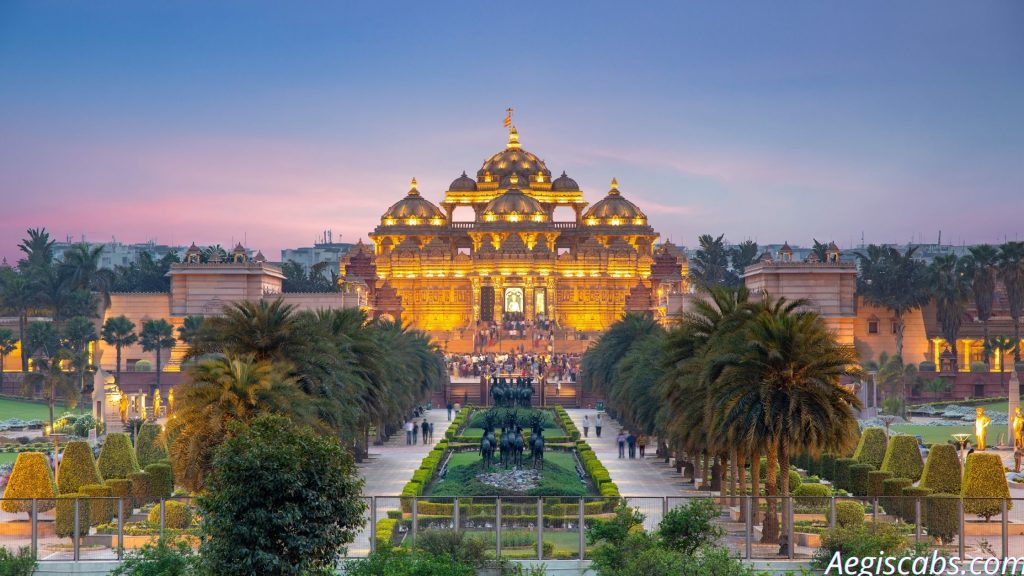 This temple is dedicated to Bhagwan Swaminarayan and exhibits the ancient culture of India .The temple is registered as the World's largest comprehensive Hindu temple in the Guinness World Record and is an architectural marvel built from intricately carved sandstone and marble. It organises exhibitions on Swaminarayan's life teachings, a musical fountain and light show after sunset every day. The temple complex also maintains a step-well styled courtyard and 60 acres of lush lawns featuring the bronze statues of Indian heroes, including patriots and warriors.
Timings: 09:30 am to 06:30 pm
Entry Fee: INR 170 (Adults); INR 100 (Children)
Nearest Metro Station: Akshardham, New Delhi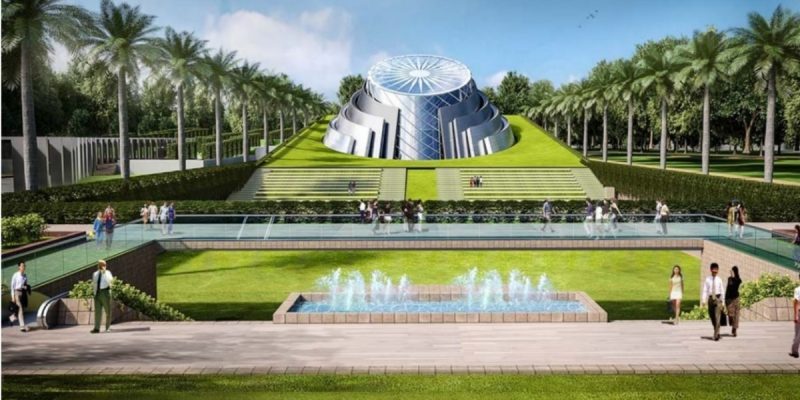 India now has a Prime Ministers' Museum. The Pradhanmantri Sangrahalaya is a museum that celebrates all former Prime Ministers. It is situated on the Teen Murti Estate – Which is India's most first Prime Minister, Jawaharlal Nehru's previous home. The Nehru Memorial Museum and Library was set up in his memory on its premises as an autonomous institution under the Union Culture Ministry.
On April 14, 2022 Prime Minister Narendra Modi inaugurated the Pradhanmantri Sangrahalaya. There are 43 galleries in the Museum. It has displays that show the lives and tenures of former Prime Ministers
Our Delhi sightseeing package
2 Nights/ 3 Days
Day 01: Arrival Delhi
Arrival in Delhi, check in to a hotel. Visit to historical monuments:
Qutub Minar
Humayun's Tomb, known to have the construction inspired by Taj Mahal
India Gate
Red Fort
Overnight stay at the hotel in Delhi
Day 02: Delhi City Tour
After breakfast, explore the capital city of the country. Visit to:
Rajghat
Lotus Temple
Akshardham Temple
Rest of the day free for leisure,
Day 03: Departure
After breakfast, check out from Hotel.
Later, transfer back to airport/railway station for your departure.