Booking a cab is an easy way to commute with pre-booking system and no hassle. Well, we all are familiar with this statement and can't deny it. The online cab booking system has come a long way and is increased rapidly throughout the country.
Gone are the days when we used to rely on public transport for commuting, now the era of booking car services is at our fingertips. Our cab services can be booked through the website or mobile apps (if applicable) in a fraction of time. AegisCabs is one of the online cab booking services that offers stress-free booking via www.aegiscabs.com.
Aegiscabs are operated in more than 400 cities and have managed to cater various customers. Our rental car company provides you best outstation and local travel with services including Airport pick and drop, live booking of multiple locations and offers you a luxurious feel of corporate/ business class travel. You can always pre-book your cab to avoid any last-minute hassle and changes.
So, let us look at some easy steps that you've to follow to book or pre-arrange your luxurious car.
Step 1: Visit the website
Visit our website www.aegiscabs.com on your mobile or and bookmark it for easy operations. Click on Book now (mentioned in the centre), and it will directly navigate you to the search section.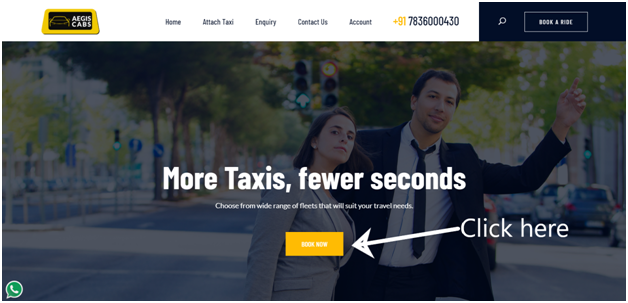 Step 2: Search
In the search section, you will see two tabs: "Local" and "Outstation". Choose the appropriate option and start filling out the information required.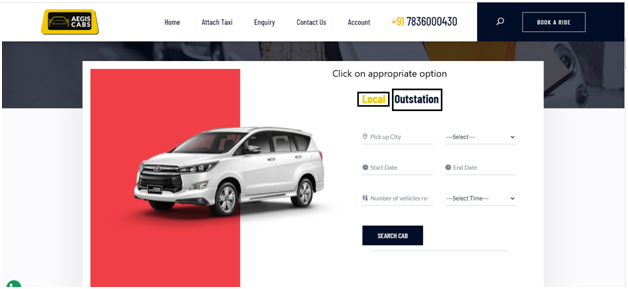 Step 3: Local
Fill out the details such as:
Pick-up city
Hours per kilometers
Start date
End date
Number of vehicles
Time of pickup
After filling all the details, click on search button and it will show you all the cabs according to the particulars filled by you.
* If you choose Outstation, same details will be filled there too.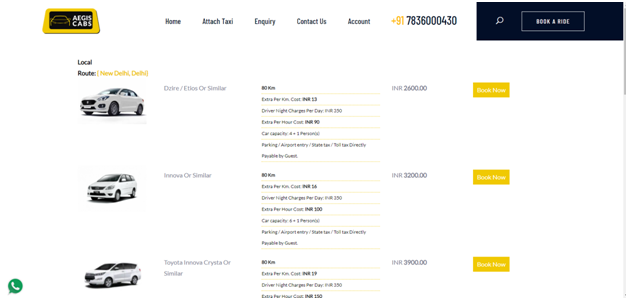 Step 4: Book
Click on the "book now" options and fill in the required details. If you are already a registered user of Aegiscabs, you need to put in your login credentials. If not, click on the register button and enter your full name, e-mail address and mobile number.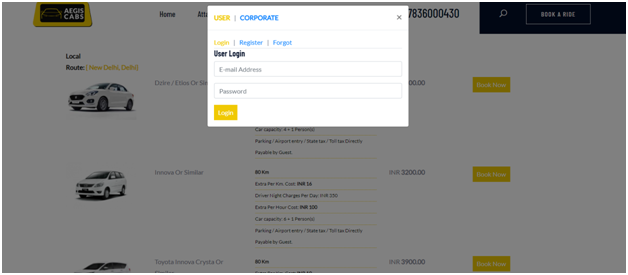 New Registration: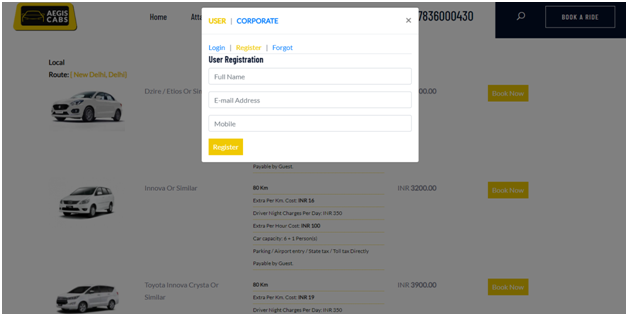 Note – We've two logins here, the user login and the other is corporate login. If you're creating an account for your bookings, then login/register to User. If you're booking on behalf of the company, then login/register to Corporate.
Step 5 : Check your E-mail ID
You'll receive an email from Aegiscabs in which all the registered details will be mentioned – your name, email ID, phone number and password generated by aegiscabs for your account.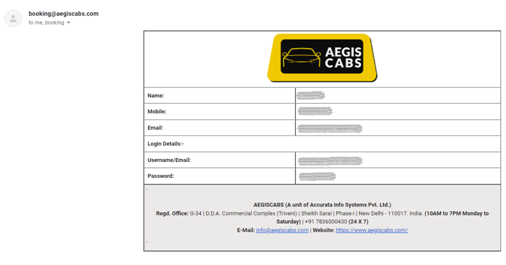 Step 6: Put the credentials
Go to the website and put the login ID and password, then click on submit. This way, your account is created on Aegiscabs. Further, you need to click on the "book now" tab on the car you want to book. After clicking, you'll be navigated to the other page where all the traveller details will be mentioned. Fill in the required sections such as nationality, country code expected passengers on board, pick up and drop address, arrival details (if applicable) etc. Read the terms and conditions carefully, tick on the box and click on confirm the booking.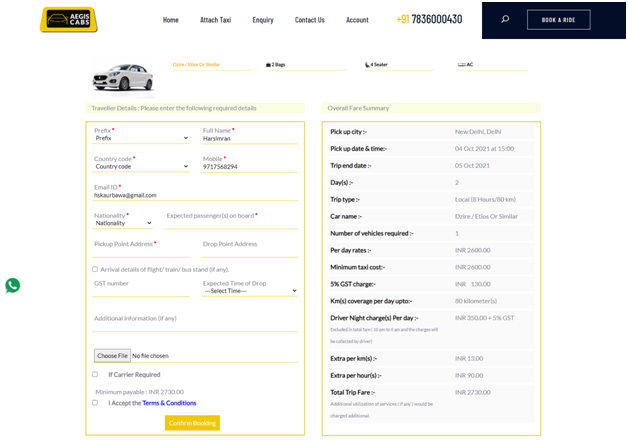 After clicking on the confirm booking tab, an automated generated message flashes on the screen saying "Thank You". Also, you'll see the "Invoice View and download" tab on the upper left. You need to click on it to download. You'll receive an email via aegis cabs confirming and mentioning your pre-booked ride. You need to pay the amount using a bank transfer on the bank details mentioned in the email or if your organization is credit approved by us then billing will be sent to your organization as per contract signed.
So, now you've learned all the steps of booking online cab services with Aegiscabs. You can book a cab by following these easy steps. Our Cab service takes care of the passengers in the most professional way. The drivers possess good training and relatively good experience in the field. Drivers follow strict rules to sanitise their hands as required, wear facemasks, and distance themselves from the customers as much as possible. According to the protocol, we've mandated the facemask and advised them to carry sanitiser and maintain social distancing from the drivers.
Important Note:- Our Aegiscabs mobile app is under construction, and it will be live within few weeks. In future, you can book from our mobile application. You can download the application from the play store or app store named Aegiscabs so that you don't need to visit the website again and again for booking. Meanwhile, you can also send us a message on our WhatsApp number +91 7836000430 with all the required details.