PURI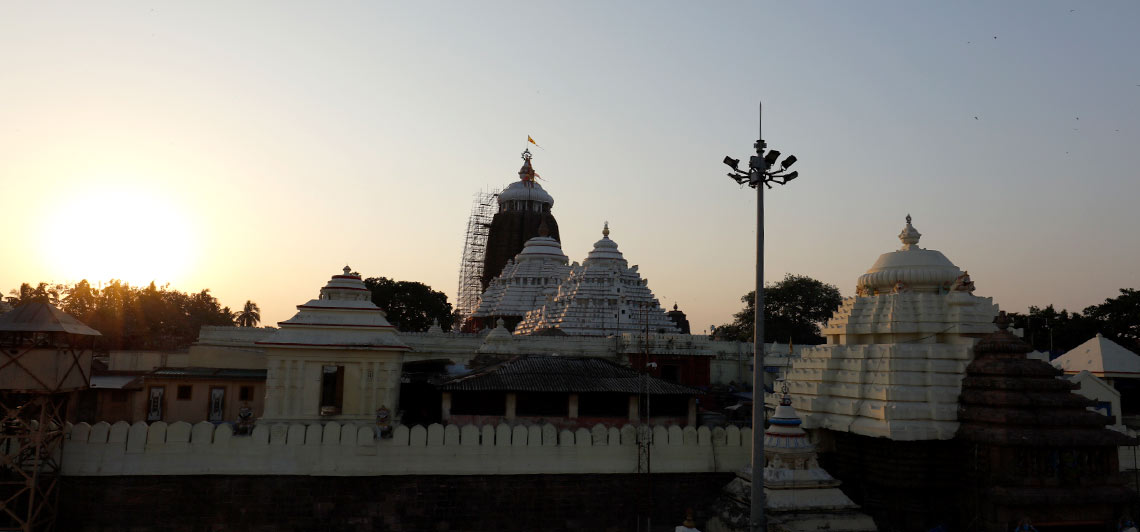 ABOUT PURI:
The abode of Lord Vishnu, as Jagannath (Lord of the universe) is regarded by Hindus as one of the four holiest pilgrim centers or "Char Dhams".

Adi Shankaracharya, the 8th century sage and religious reformer established the Gobardhan matha (monastery) here.

Puri is also known for its fine beach.
ACCESSIBILITY:
Airport : Biju Patnaik International Airport (BBI), 60 kms distance from Puri.
Rail : Puri Railway Station, 2.5 kms distance from Puri Beach.
Road : Well connected with road
SIGHTSEEING AT A GLANCE:
HOLY CENTRE

Lord Jagannath Temple, Gundicha Mandir

OTHERS

Golden Beach

FAIRS & FESTIVALS

Rath Yatra

Beach Festival

Golden Beach
For more information visit https://odishatourism.gov.in/content/tourism/en/discover/major-cities/puri.html
ATTRACTIONS OF PURI
Lord Jagannath Temple:
Typical Kalinga style of architecture was build Lord Jagannath during the 12th century A.D. by Chodaganga Deva.

65 meters high temple dominates the landscape visually as well as spiritually.

One of the most magnificent monuments if the India.
Gundicha Mandir:
Small sanctum is said to be the birthplace of Jagannath.

During 'Rath Yatra' the deities from the main Jagannath Temple are brought for a sojourn of one week to this shrine.
Golden Beach:
Finest beaches of the country.
FAIRS AND FESTIVALS:
Rath Yatra:
Wooden idols of Lord Jagannath along with his sister Sudhadra and brother Balabhadra are taken out in three gigantic chariots, borne on 16 emormous wheels for an annual vacation to Gundicha Mandir.

It happens generally month June / July.
Beach Festival:
On 'Kartik Purnima', the full moon day in the Hindu month of Kartik (October / November), devotees gather here in the early morning to take a holy dip.
Ganesh Puja:
Dedicated to the worship of Ganesha (the elephant-headed son of Lord Shiva) is known as Ganesha Chaturthi.
HANDICRAFTS OF THE REGION:
Soap Stone

Sea-shell

Solapith
SHOPPING:
Brass Materials

Wood Carvings

Stone Crafts

Silver Works
AROUND PURI:
Balighai:
8 kms from Puri.

Casuarina fringed beautiful beach is a popular picnic spot
Brahmagiri:
25 kms from Puri.

Famous for the living shrine of Alarnath.
Satyabadi:
20 kms from Puri.

Visit to the shrine of Lord Sakshigopal here is considered a must for devotees coming to Puri.
Baliharachandi:
25 kms from Puri.

Temple of Baliharachandi (Durga) lies atop a sandy hill near the sea, adjacent to the mouth of the river Bhargavi.

The scenic beauty of this place.

Ideal for group picnic.