KOCHI (ERNAKULAM)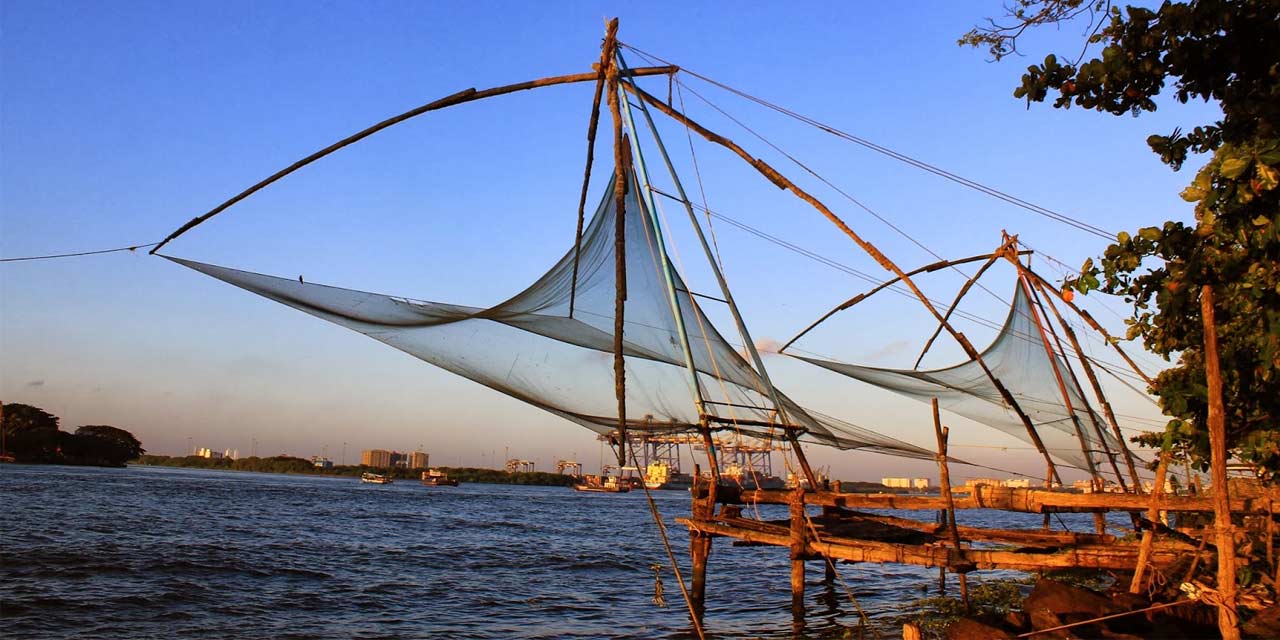 ABOUT KOCHI (ERNAKULAM):
Captivating Kochi, the commercial capital and the most cosmopolitan city of Kerala is an excellent blend of traditions and modernity.

Kochi, the "Queen of the Arabian Sea" is full of history legends and natural beauty.

Since time immemorial, Arabs, Chinese, Dutch, British and Portuguese had trade relations with Kochi.

Beautiful town considered to be one of the most attractive destinations in the world is also a shopper's paradise.

Shopping list comprises of antiques, wood carvings, wooden jewellery boxes, oil lamps, coir products, textiles, spices and other handicraft items.
MODE OF COMMUNICATION:
Airport: Cochin International Airport, Kochi (COK), 34 kms away from Kochi city centre.
Rail: Ernakulam Railway Station, Ernakulam, 6 km away from Kochi city centre.
Road: Well connected with NH47 and NH 47A.
SIGHTSEEING AT A GLANCE:
SCENIC SITE

Chinese Fishing Nets

FORT & MONUMENTS

Vasco House Jewish Synagogue & Jew Town (Mattancherry) Dutch Palace (Mattancherry) Vypin Island & Light House

HOLY CENTRE

St. Francis Church Aluva (Alwaye) Kaladi Tripunittura

MUSEUM & AUDITORIUM

Tripunittura Edappally Museum of Kerala History & Its Makers M.N.F Gallery of Paintings & Sculptures

HISTORIC SITE

Kodungallor (Crangnore)

BEACHS

Fort Kochi Beach Willingdon Island Vypin Island & Light House

BACKWATERS

Bolghatty Island

OTHERS

Ernakulam Indira Gandhi Boat Race

FAIRS & FESTIVALS

Cochin Carnival

Indira Gandhi Boat Race

Malayatoor Perunnal

Thalapoli Mahotshavam

Onam

Utsavam
For more information visit https://www.keralatourism.org/kochi/
ATTRACTIONS OF KOCHI (ERNAKULAM)
Chinese Fishing Nets:
Huge cantilevered fishing nets are the landmark of Malabar Coast.

Nets were introduced between 1350 and 1450 A.D., by traders from the court of Kublai Khan in China.

Set up on teak wood and bamboo poles and are mainly used during the high tide.

Vasco da Gama Square affords the best view of these nets, especially during sun-set time.
Fort Kochi Beach:
Beautiful beach extends from Kamalakada to the entrance of Kochi harbour.

Along the beach are many colonial bungalows.
St. Francis Church:
Built in 1503, by Portuguese Franciscan friars and is believed to be the first church built by the Europeans in India.

Vasco da Gama, the discoverer of sea route to India, died in Cochin in 1524 and was initially buried here.
Vasco House:
16th century building is one of the earliest residences built in Fort Cochin.

It is said to be the house of Vasco Da Gama.
Willingdon Island:
Set amidst mainland Ernakulam and the old town Mattancherry.

Named after Lord Willingdon, one of the British Viceroys.

Some of the finest hotels and trading centres of the city are located here.
Jewish Synagogue & Jew Town (Mattancherry):
Synagogue built in 1568, is the oldest in the country.

Township around the synagogue is known for spice trade and curio shops dealing in antiques as well as rare glass and beads.
Dutch Palace (Mattancherry):
Built by the Portuguese and presented to the Raja of Kochi, Veera Kerala Varma in 1555, but was later taken over by the Dutch.

Palace has fine murals depicting scenes from Ramayana, Mahabharta and other mythological figures.

Royal costumes, palanquins and other royal memorabilia are also exhibited here.
Bolghatty Island:
Scenic Island located in the Kochi Bay is known for the Bolghatty Palace built by the Dutch in 1744.

Served as the seat of the British Resident and is now a heritage hotel run by the KTDC.

Lush green landscape with great views of the backwaters makes it an attractive picnic spot.

There is also a small golf course.
Vypin Island & Light House:
One of the most densely populated islands of the country.

Light house at Ochanthuruth affords an awe-inspiring view of the Kochi City and Aluva town.

Pallippuram Fort on the northern end of the Vypeen Island was built by the Portuguese in 1503.

First fort built in India by the Europeans.

Another attraction is the charming Cherai Beach.
Ernakulam:
'Gateway to Kochi' is regarded as the 'Commercial Capital of Kerala'.

There are beautiful parks, children playgrounds and beach side pavements.

Naval base and the Cochin Shipyard are also located here.

Places of interest of Ernakulam are Mangalavanam small bird sanctuary, Marine Drive – Par Avenue – Fine Arts Avenue, St. Francis Assisi (Naduvileppalli) and Siva Temple, one of the largest temples of the State.
Indira Gandhi Boat Race:
Famous snake boat race is held during the Onam celebrations (August/ September).

It can be enjoyed from the Marine drive promenade.
ATTRACTIONS AROUND KOCHI (ERNAKULAM)
Aluva (Alwaye):
Important pilgrim centre and summer resort lies on the left bank of Periyar River, 25 kms away from Kochi city.

Famous for the Mannapuram Shiva Temple and St. Dominic Syrian Church.
Kaladi:
Beautiful pilgrim site on the banks of river Periyar, 45 kms away from Kochi city.

The birth place of Adi Sankaracharya, the great Advaitha philosopher and Bhakti saint of 8th century.

There are two main shrines – one is dedicated to Adi Sankaracharya, as Dakshina Moorthi, while the other is of Goddess Sharada, the patron deity of Sringeri Mutt.
Kodungallor (Crangnore):
32 kms away from Kochi city.

Small historic port town was an ancient centre of trade and commerce and had relations with the Jews, Phoenicians, Greeks, Romans and the Arabs.

It was earlier known as Muziris same to Greeks and Romans.

Pliny, the great traveller described it as the 'first emporium in India'.

St. Thomas, the Apostle is believed to have first landed at Muziris port in 52 AD.

First mosque in India was also built here.

Unique mosque faces east unlike others which face Mecca in the west.

Kodungallor is also known for the Kurumba Bhagavathi temple and it's Bharani Festival in March/ April.
Tripunittura:
9 kms away from Kochi city.

Important cultural centre, enroute to Kottayam, 9 kms away from Kochi city, was the seat of erstwhile Cochin Rajas.

Main attractions here are – Sri Poornathreyesa Temple and Hill Palace Museum.
Edappally:
10 kms away from Ernakulam.
Museum of Kerala History & Its Makers:

Exhibits the rich historical legacy of Kerala.

An Image of the legendary sage Parasuram is set outside the museum.
M.N.F Gallery of Paintings & Sculptures:

Located next to Museum of Kerala History.

A rich collection of original paintings of eminent Indian painters.