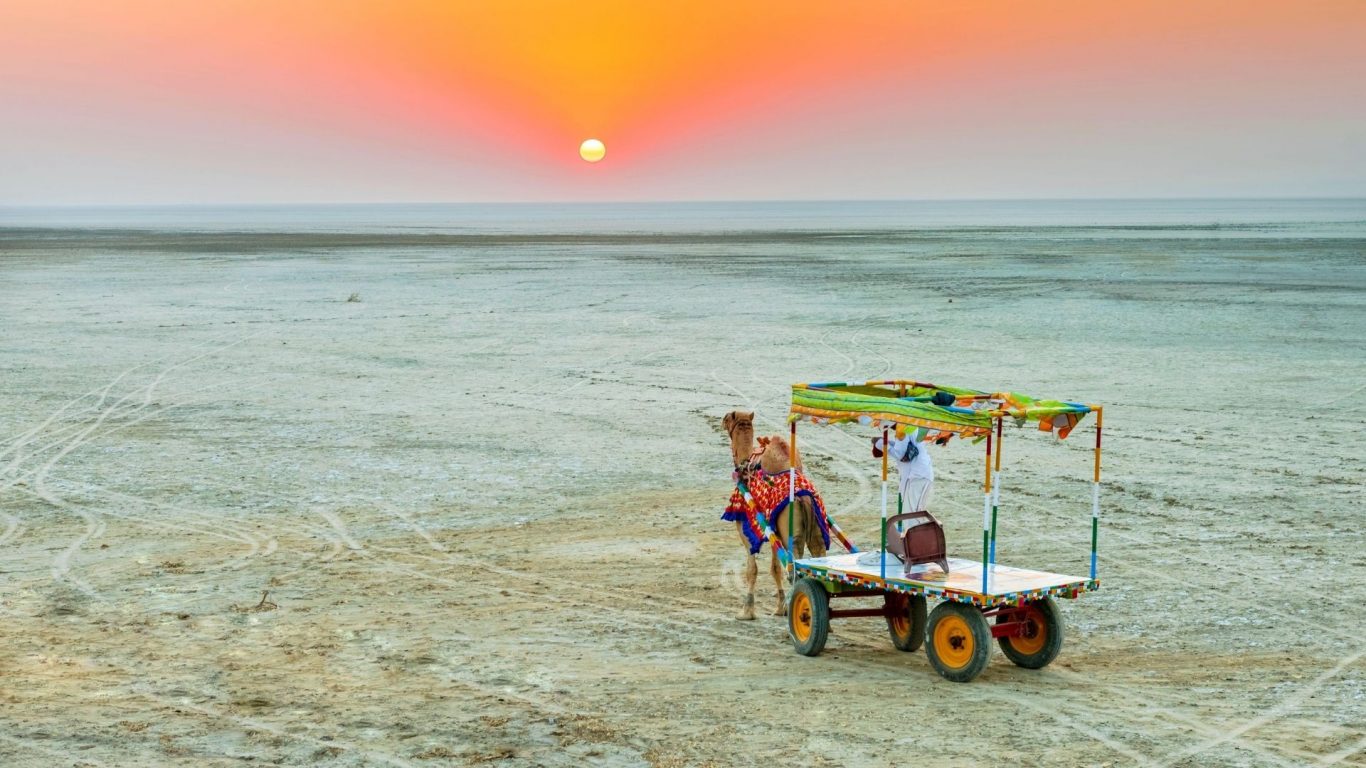 Holiday Package
Day 01: Arrival at Little Rann of Kutch
Arrival at Little Rann of Kutch. Check in to the Hotel and relax.
In the afternoon, enjoy Desert safari in the Little Rann of Kutch by open Jeep, where one can sight animals like Wild-Ass, Desert Fox, Blue Bull, Blackbuck, Wolf, Jackal and few species of snakes & many species of birds. Overnight stay at the hotel.
Day 02: Little Rann of Kutch – Bhuj ( 260km / 5hrs )
After early breakfast, transfer to Bhuj. On arrival visit to:
Swaminarayan Temple, is one of the most magnificent temples. Through the inspiration of Bhagwan Shree Swaminarayan, and the power of Bhuj Saints and Bhakts from all over the world, a magnificent temple has been constructed using traditional Vedic architectural methods, on the banks of Hamirsar Lake.
Aina Mahal Museum, is famous for its unique and extraordinary interiors and architecture. Many water bodies and fountains are present in the interiors of the palace, forming a variety of patterns that charms the viewers
Pragmahal Place, famous for its large Durbar Hall, wide verandas, a 45 meter high lofty bell tower. It was built using various types of stones available in the Kutch region over a period of ten years.
Bhartiya Sanskriti Darsan Exhibition, is the top cultural center in Gujarat having a wide variety of rural architectural samples, paintings, pottery, handicrafts, scripts and handlooms in the museum.
Cenotaphs of Royal Family. These are the monuments dedicated to the lives of warrior Rajput rulers of the Kutch.
Overnight stay at the hotel.
Day 03: Exploring Banni and Pachcham
After breakfast, explore the Banni and Pachcham regions and the edge of the Great Rann of Kutch. Visit :
Dhordo village, is known for its rich culture and banni hospitality. Handicrafts are an important part of the life of people here as the village as they specializes in thread and needlework.
Bhirandiyara village, known for its fine embroidery work, its beautiful mud houses or bhungas and for its maavo dessert.
Ludiya village, is known for its beautiful embroidery work and traditional crafts and furniture.
Khavda village, is famous for embroidered handmade soft toys and other distinct creations. Also known as the flamingo colony as these birds migrate over every year.
Kalo Dungar (Black Hill) is the highest point in Kutch.One can enjoy a panoramic view of the Great Rann of Kutch. The hill is also famous for a 400-year old temple dedicated to Lord Dattatreya.
Later proceed to White Rann which provides the view of the Great Rann & Sunset view.
Overnight stay at the hotel in Dhordo.
Day 04:Dhordo –– Nakhatrana ( 250km / 5hrs )
Today, Enroute visit:
Mata no Madh – the famous temple of Ashapura Mata.
Lakhpat Fort, with unique Gurudwara and a beautiful tomb of Gosh Muhammad (famous saint) constructed with hard black stone.
Narayan Sarovar is one of the most sacred sites in Hindu religion
Koteshwer Shiva Temple, is close to Narayan Sarovar & is famous for its legend surrounding Lord Shi va & Ravana.
Overnight stay at the hotel in Nakhatrana.
Day 05: Nakhtrana – Mandvi ( 100km / 2hrs)
After breakfast, transfer to the coastal town Mandvi. Later, visit to:
Vijay Villas Palace ,is known for its well-laid gardens with water channels and marble fountains, the palace is noted for its traditional Rajasthani style architecture

72 Jainalaya

, is known for its immaculate beauty. The intricacy of the work on the walls and pillars, spectacular work on the inner side of the central domes, and several other characteristics are the highlights of the temple
Shipping Yard, is about 400 years old and

is famous for its ship building industry and the craftsmen who use traditional techniques to build ships for domestic and international clients
Enjoy rest of the day at the Mandvi beach.
Overnight stay at the hotel in Mandvi.
Day 06:Mandvi – Jamnagar ( 300km / 6hrs )
After breakfast, proceed to Jamnagar. On arrival check in to the hotel. Later visit to:
Lakhota Lake, with many rare varieties of birds around. It was once recorded that 75 different kinds of birds were found in this Lake.
Lakhota museum, showcases the artefacts that belong to the 18th and 19th century including items like a skeleton of a whale, swords, powder flasks, possessions of Jadeja Rajputs, and remnants of Gujarat rulers
Bala Hanuman Temple known for its nonstop Ramdhun since 1956 and it mentioned in Guinness Book of World Records.
Rest of the day is free for Shopping. Overnight stay at the hotel in Jamnagar.
Day 07:Jamnagar – Dwarka ( 150km / 3hrs )
After breakfast, check out from the hotel and later proceed to the sacred town of Dwarka. Checkin to the hotel and afterwards Visit :
Dwarkadeesh Temple, is a Hindu temple dedicated to the god Krishna, who is worshiped here by the name Dwarkadhish. One can take a holy dip in Gomti river,
Nageshwar Jyotirling, is one of the well-known Shiva shrines in the country. This temple symbolizes the confiscation of evil forces from earth. It is one of the 12 Jyotirlingas, this temple abodes an interesting legend about its origin.
Gopi Talav, it is believed to be the divine place where all the Gopis performed their last raas leela with lord Krishna.
Bet Dwarka (

Shankhodhar)

,is said to have been the residence of Lord Krishna during his ruling years at Dwarka
Rukmani Temple,

dedicated to Rukmini Devi, the wife of Lord Krishna and an avatar of Goddess Lakshmi.
In evening attend Aarti at Dwarkadish temple.
Back to the hotel. Overnight stay at the hotel in Dwarka.
Day 08:Dwarka –Somnath ( 200km / 4hrs )
In the morning, enroute explore Porbandar visit:
Kirti Mandir – the place where Gandhiji was born
Sudama Temple – The only Sudama Temple in the world.
Later proceed to Somnath. On arrival visit:
Bhalka Tirth, is known as Mahaprabhuji's Bethak, and a Tulsi tree has been planted in Lord Krishna's honor. Inside the temple, there is a idol of Shri Krishna in a semi-reclining position. The temple also contains a beautiful tribhangi idol of Lord Krishna playing his flute.
Triveni Sagam, three rivers Hiran, Kapila and the Saraswati meet here.
Gita Mandir Chopati, is a temple dedicated to Lord Shree Krishna, the most notable part of the Gita Mandir is its eighteen marble pillars with 18 Adhyays of Shrimad Bhagwat Geeta carved on them.
Somnath Temple, is one of the 12 jyotirlinga shrines of Shiva. It is the specimen of fine architecture too.
In the evening attend Aarti at Somnath temple and later watch light and sound show at Somnath temple. Back to the hotel. Overnight stay at the hotel.
Day 09:Somnath – Sasangir – Rajkot ( 200km / 4hrs )
After breakfast, proceed to Rajkot. Enroute visit:
Sasangir National Park which is famous for abundant flora, fauna and birdlife.
Later, Proceed to Rajkot, check in to the hotel. Afterwards visit to Gondal Palace and Jalaram Temple
Back to the hotel. Overnight stay at the Hotel in Rajkot.
Day 10:Rajkot – Akshardham – Ahmedabad ( 230km / 5hrs )
After breakfast, transfer to Ahmedabad. On arrival at Ahmedabad visit:
Adalaj Step well, is a five storey stepwell also holds significance owing to the deities engraved on its walls
Akshardham Temple, features the architectural skills of more than 900 artisans. Noted for its architectural charm, it illustrates Swaminarayan Sect's deep-rooted influence in Gujarat's culture. It is famous for its architectural grandeur, imposing exhibition halls and well maintained garden.
Gandhi Ashram, is the place where Mahatma Gandhi lived and started the Satyagraha Movement.
In evening, take the departure.